Minimum insurance requirements for Vehicle Insurance in New York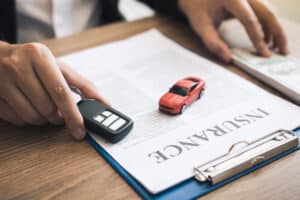 (Vehicle Insurance) Liability protection
Property damage and bodily injury are the two categories of liability coverage that your insurance policy needs to cover if you live in New York.
In the event that you are held legally accountable for a covered accident, property damage protects your assets. It covers specific harm you might do to someone else's property or car.
If you are judged legally responsible for a covered accident, bodily injury protects your assets, including any costs related to bodily harm suffered by the other parties.
A portion of lost wages, medical costs, and costs for necessary services incurred as a result of an accident may be covered by personal injury protection (PIP) for qualified injured parties (i.e. passengers or pedestrians).
No-fault coverage
It is required to have no-fault insurance in the state of New York. No-fault insurance will pay for any hospital or medical bills, lost wages from being unable to work, and, if necessary, any funeral costs if you are in a car accident. Regardless of who caused the collision, no-fault insurance will pay for these costs. But it doesn't cover any harm to your car.
New York's teen driving regulations
Young drivers can't wait to get on the road and enjoy that type of liberty for the first time. It's crucial to understand New York's new driver laws in order to ensure everyone's safety on the road.
While some procedures change between New York State and New York City, a kid can apply for a learner's permit when they reach 16 in both places. Teenagers can apply for a junior driver's license after holding a learner's permit for at least six months; once they become 17 years old, they can then apply for an unrestricted license.
New York car insurance state minimums
Coverage type

State requirements

Bodily injury liability
Helps cover expenses related to the injury or death of another driver or a pedestrian when an accident is your fault.

$25,000 limit per person/$50,000 limit per accident

Property damage liability
Helps cover expenses related to the damage of another person's property — like vehicles, homes, buildings and other structures — when an accident is your fault.

Uninsured motorist
Helps cover your medical expenses if you're in an accident, the other driver is at fault and doesn't have any insurance.

$25,000 limit per person/$50,000 limit per accident

Underinsured motorist
Helps cover your medical expenses if you're in an accident, the other driver is at fault and doesn't have enough liability insurance.

Grouped with uninsured motorist coverage

Personal injury protection
If you and/or your passengers are hurt in an accident, this helps cover medical or funeral expenses.

$50,000 limit

Collision
Helps cover expenses to repair or replace your vehicle that's been damaged in an accident.

Not required

Comprehensive
Helps cover expenses to repair or replace your vehicle that's been stolen or damaged by things like storms or vandalism.

Not required
New York car insurance discounts
By requesting a quotation online or chatting with your local agent, you can learn which reductions can be applied to your policy. There are a variety of auto insurance discounts that can help lower your monthly rate; you might be qualified for the following special discounts:
Multi-policy
You can combine your auto insurance policy with ones for your home, renters, boat, and multiple cars when The Kinney Agency is your insurance provider. You may simplify your life and save money by having The Kinney Agency cover your property.
SmartRide® program
SmartRide rewards safe driving. Get an instant discount when you sign up. The safer you drive, the higher the discount you could earn.
Good student
Most policies offer a student discount for drivers age 16 to 24 who maintain a B average or better and are full-time students.
Defensive driving
This discount applies to drivers age 55+ who have completed and passed a state-approved defensive driving safety course.
Anti-theft
If you have an anti-theft device installed in your car you may be eligible for a discount. Savings vary based on the type of device installed. Proof of installed device may be required.
Safe driver
It is important to maintain a clean driving record. If you have at least 5 years of safe driving, you could be eligible for safe driver discount.
Automatic payments
Get a one-time discount for setting up monthly recurring bill pay from your checking or savings account.
Accident free
When you maintain an accident-free driving record you could earn up to 10% reduction in your monthly premium.
Our Locations for Vehicle Insurance
Kinney Insurance Agency is an independent insurance agency that serves the communities of Hudson Falls and Galway in New York. They offer a variety of insurance services, including vehicle insurance, personal and commercial insurance, life insurance, and financial services.
As an independent agency, Kinney Insurance Agency can provide their clients with access to multiple insurance carriers, which allows them to find the most cost-effective vehicle insurance coverage options for their clients. Their experienced agents can help clients understand their insurance needs, evaluate their risks, and find the best insurance coverage to meet their unique needs and budget.
If you live in the Hudson Falls or Galway area and are in need of insurance services, you may want to consider working with Kinney Insurance Agency. Their local presence and commitment to providing high-quality customer service can make them a valuable resource for individuals and businesses looking for insurance coverage.